Grifos-pens.us is the website of the USA representative of Aurumvallis, manufacturer of Grifos Pens of Italy. We maintain a regular inventory of Grifos pens in the US, and regularly represent the company with a selection of catalog and one-of-a-kind writing instruments at pen shows throughout the year. See our show schedule page for upcoming opportunities to see, write with, and purchase Grifos pens.
Our variety includes daily writers, unique collectibles, and elegant showpieces. We have something for everyone.
Grifos Pens of Italy / Aurumvallis
…As young as the river after the rain, as old as its course…
For nearly thirty years Grifos has been in the world of writing: we work silver, gold and other precious materials with the well known Italian artistry and professionalism to create fine writing instruments of every kind: fountain pens, rollerballs and ballpoint pens as well mechanical pencils.
We can create a pen either according to either our customer's drawing or ours, combining our expertise and the customer's taste – our main priority.
Our company resides in the Piedmont region of Northern Italy. Near Turin, specifically Settimo Torinese, the historic center of the tradition of Italian penmaking, is Grifos.
Aware of history but also eager to play a part in the modern global marketplace, we seek to combine the most appealing aspects of traditional craftsmanship with the advantages gained through current technologies.
Precision, flexibility, quality and Italian tradition form the foundation of our guidelines.
To be competitive we must be creators: one of our goals is to offer a technically perfect yet artistic object to the customer.
Every step of its production – from manufacturing to packaging – is carefully checked by our experienced artisans.
We care about our customer's satisfaction: through direct and close contact with our clients we can replace or repair worn out or accidentally damaged parts faster than larger corporate entities – this is the efficiency and reliability Aurumvallis is able to offer.
Working noble and precious metals requires agility and competence handed down to us by the Italian and Aostan traditions: we manufacture writing instruments in silver and gold combining them with other materials like hard resin, natural horn; briar, bog oak and vine and olive woods, leather and exotic skins to create classic yet original products. Our artisans are well known for executing beautiful Guillochè designs, the distinctive feature and special appeal of our silver pens.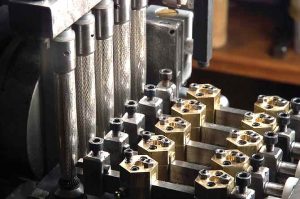 The art of guilloché is as old as time: it was renowned by Tsars thanks to Fabergé. Guilloché is a technique with origins in the 18th century and consists of using a manually operated natural diamond cutting tool to engrave metals, resulting in brilliant diamond cut patterns. Today this is essentially a dead art, considering that this craft is handed down from father to son, using machines that are still operated as they were three centuries ago. The Aurumvallis Company has a Guilloché cutting machine on site, thus allowing our experienced silversmiths to engrave in house, whereas very few pen companies do Guilloché engraving within their own facilities. Engraving pens, one line at a time, one by one with vintage equipment, allows us to convey our passion to those who use them, making these objects even more precious.
We like to think that our products can evoke emotions in those who receive them, as beautiful and unexpected things do. This is why we are constantly searching for a special design, new colors and materials to satisfy even the most unusual request.
Every day nature gives us new hints of materials that can be shaped by humans but stand the test of time: one of our most celebrated creations is a fountain pen made of primitive but eternal material immediately recognizable to the touch: steatite or soapstone (ollar stone).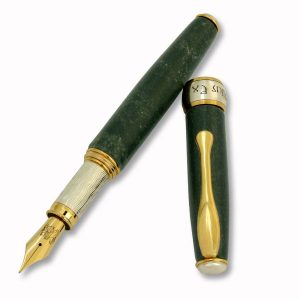 At first sight the stone seems to be cold like other stone but it is warm and gentle to the touch, at once an extraordinary writing instrument, full of mystic meaning, handmade according to ancient local traditions. This pen is closely linked with our brand: the figure of rampant griffons on the stone millenary mosaic is a never ending cycle. This is the story of a millinery commemoration…
The year 1000. Northern Italy is a part of the Sacred Roman Empire, a land of fights and bloody raids.
Only in few places – in the very heart of history and art – some seeds of a promising but still distant renaissance future have survived from destruction: the Saint Benedict Abbey.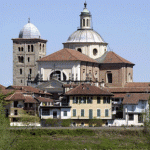 The year 1979. A millennium has passed since one of these treasures was almost destroyed, and restoration work of an 18th century church floor allows the discovery of thousands of tiles of an extraordinary polychrome mosaic. Meanwhile in the nearby junior high school another school year is ending. On a sunny May afternoon the news breaks and in a split second frees us from the torpor of Latin class.
Promptly our professor seizes the opportunity of a live history lesson. It is hard to believe – but twenty curious teenagers are the first, after long centuries, to walk on those tiny mosaic tiles. What an astonishing view – two rampant griffins, their eyes are half open in a proud and sly look … alius ex alio … "one for the other".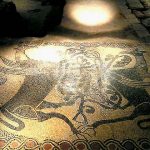 The year 2000. One thousand years have passed since the creation of that mosaic; those twenty youngsters are now adults and life has dispersed them all over the world.
We hope this collection of fine writing instruments is able to convey invaluable history, art and dreams to pay tribute to those teenagers and especially to those men in the world who created the art of writing, passing it along for centuries.
So… alius ex alio – one for the other…